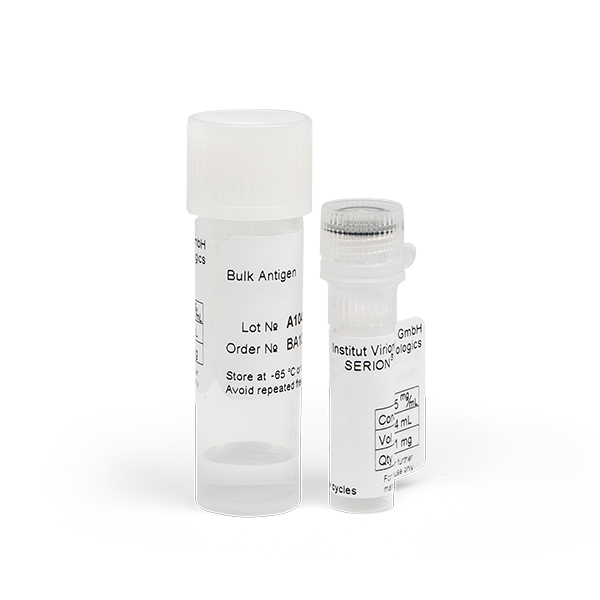 Downloads
Flyer

MSDS Deutsch

MSDS English

Product Data Sheet
Varicella Zoster Virus (VZV)
Varicella Zoster Virus is a Herpesvirus belonging to the Herpesviridae family and is closely related to human HSV-1 and HSV-2. It causes chickenpox (varicella) in children and herpes zoster (shingles) in adults. VZV is a worldwide spread pathogen, also known as human Herpesvirus Type 3 (HHV-3). For production of the two different native antigens offered, Varicella Zoster Virus (strain Ellen) is cultivated in HEL 299 cells and purified by ultra-centrifugation through a sucrose cushion or via affinity chromatography to purify the viral glycoproteins. The lysate antigen (prepared by ultra-centrifugation) is recommended for the detection of IgM antibodies while the glycoprotein based antigen is recommended for the detection of IgG antibodies against VZV.
Please let us know if you are interested in 0.25 mg test samples.
For antigen orders in the U.S., please contact our local sales partner The Binding Site Inc.
Products
Varicella Zoster Virus (VZV)
SERION antigens
BA104VS
Varicella Zoster Virus (VZV) Glycoprotein
SERION antigens
BA104VSG